Rowena Rodrigues, Trilateral Research
As the SATORI project concludes this month, let's consider the future of ethics assessment, its challenges, and the role of policy-makers in fostering it to ensure research and innovation (R&I) excellence and global leadership.
The future of ethics assessment will be as bright, as we wish it to be, and work to make it. According to the European Commission, ethics is given the highest priority in EU funded research: all the activities carried out under Horizon 2020 must comply with ethical principles and relevant national, EU and international legislation, for example the Charter of Fundamental Rights of the European Union and the European Convention on Human Rights. Ethics will continue to be an "integral part of research from beginning to end, and ethical compliance is seen as pivotal to achieve real research excellence" (Horizon 2020 Framework Manual). As the SATORI policy brief "Supporting ethics assessment in research and innovation" states, national-level ethics assessment should be supported by legal frameworks, funding and the right impetus – these will help it fulfil its objectives more effectively and contribute to the positive impacts of R&I.
As highlighted by participants at the SATORI final conference held in Brussels on 18-19 September 2017 and the SATORI policy recommendations report, the key challenges will continue to be the fragmentation of efforts, low awareness levels, lack of institutional support in some areas, shortage of resources (human, financial, time), the strong influence of economic and political circumstances on the functioning of ethics committees, and cross-cultural agreement about moral limits of R&I. Each of these challenges calls for concerted and sustained efforts by stakeholders to address them using various means e.g., embedding ethics in the institution and fostering a commitment to it, sharing of good practice, mutual learning and dialogue.
Policy-makers, due to their influential position, play a key role in helping address these challenges effectively. Based on its theoretical and empirical work and its policy watch and policy monitoring activities, SATORI developed six policy briefs and has made various recommendations for policy-makers. These recommendations aim to support the uptake of the project results and, on the broader level, to take EU ethics assessment to a whole new level – one that gives European research and innovation a significant leadership in considering and addressing ethical impacts and ensuring R&I excellence. The figure below summarises the recommendations.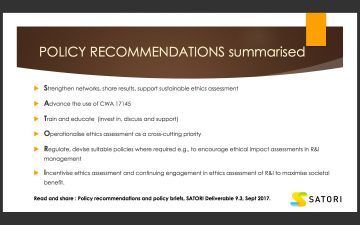 If policy-makers (international, European and national) take it upon themselves to follow these recommendations, there will be a sea change in ethics assessment practices in R&I, and this will help alleviate the challenges ethics assessment currently faces. Support from the policy-level is critical to foster ethical and societally beneficial R&I.
While SATORI concludes this month, our work too, does not end here. The good work that SATORI has done in promoting good practice in ethics assessment and RRI will continue in various ways. The use of the SATORI CWA 17145 will be monitored and reviewed after three years. Drawing upon our results, SATORI partners will continue to collaborate widely on themes such as ethics assessment, ethical impact assessment, ethics of technologies, responsible research & innovation (RRI) to ensure buy-in to its results and to create a lasting impact, e.g., via EU-funded projects such as ENERI, GoNano, HEIRRI, NewHoRRIzon and SIENNA.